As part of their education at Dania Academy, the International Hospitality Management students collaborated with Randers Municipality and tried to find out new ways to improve the welcoming system for internationals newcomers.
The students worked with a wide range of methods including improving the service design, to show how, with very few changes, the municipality, library and language center can make a big difference to the welcoming experience of an international newcomer. For example, the students suggested an addition of an English option for answering phone calls, an English translated welcoming letter, or having volunteers to offer a free city tour, as it is already currently offered to tourists.
Artiklen fortsætter under billedet
Cecilie Sofie Vahle
Our conclusion was that there are easily accessible and affordable enhancement opportunities in both digital, verbal and non-verbal communication with international newcomers. We received a good response to our report from our contact person from the municipality.
Cecilie Sofie Vahle - International Hospitality Management student
A win-win collaboration
For the librarian Dorthe Meyer Andreassen, who is in charge of the school and educational area at Randers Library, the collaboration has been a win-win experience.
"It is great to be part of such a beneficial cooperation. The students were very engaged and I could see that they also had the help of an enthusiastic teacher. There were many ideas they came up with. Some of the ideas can be implemented without big expenses and with relatively little effort, while others will require significantly more resources", says Dorthe Meyer Andreassen from Randers Library.
Artiklen fortsætter under billedet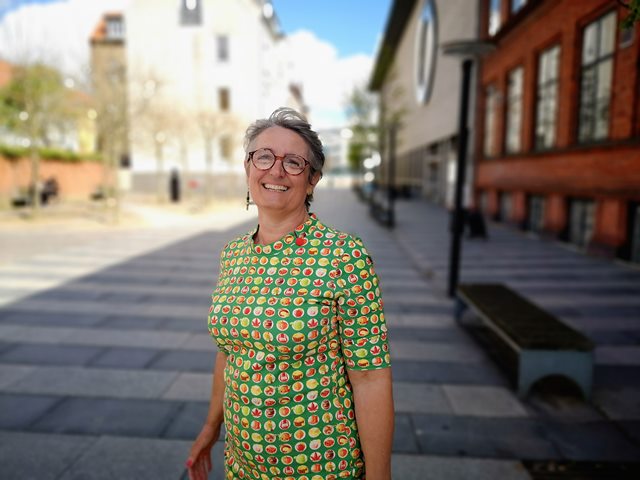 Dorthe Meyer Andreassen from Randers Library
Small changes, great effect
Lasma Balode from Latvia lives and studies in Randers and was involved in the project. She loves the city's nature and history and she thinks that Randers has its own charm. Therefore, she hopes that it can be shown more to other international newcomers.
"We found many little things that would have a great impact and significance if implemented accordingly. There is so much to tell about the city, but it is not shown to newcomers, such as the museums or nature", says 23-year-old Lasma Balode.
The students were supposed to present their findings during an event in the Culture center, however, due to the pandemic situation, they have only received online feedback. On the other hand, Dorthe Meyer Andreassen and the other collaborators from Randers Municipality and Randers Language School have subsequently teamed up with Underværket, one of the local cultural and commercial institutions, to turn some of the students' proposals into reality.
"It's going to be so exciting and I'm optimistic about it," concludes Dorthe Meyer Andreassen.