Everything you need to be successful
21-year old Krzysiek from Poland started his education at Dania in 2018 and he is happy about the choice he made. "My friend Dawid and I came up with the idea of moving to Denmark. He was the one who eventually persuaded me. We did some research, found Dania's Marketing Management programme an attractive option and that was it. As a student, I have everything I need to be successful here and that is what makes me optimistic and happy about my future", says Krzysiek.
Artiklen fortsætter under billedet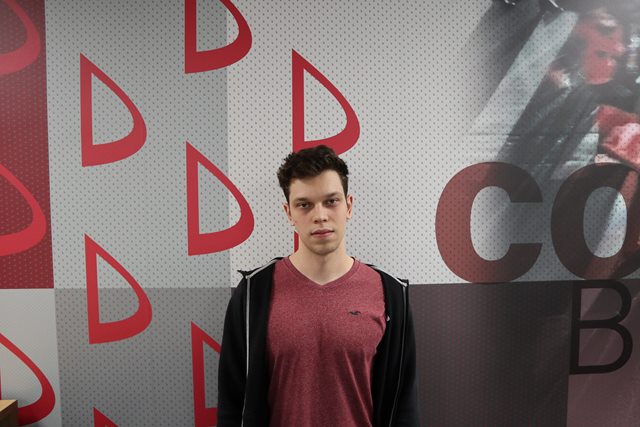 Finding, gauging, and seizing opportunities
Making important decisions can be stressful and difficult, but through thorough research, some decisions can become easier to make. Although he was happy with his studies in Denmark, the Marketing Management student decided to research the many international opportunities offered to Dania students. That is when he learned about Erasmus+.
"I spent some time reading about my possibilities and researching the Academy's university partners, hoping to find a university that matches my aspiration. I eventually found out about Sheffield Hallam University and I immediately became intrigued. After more research, I decided I must seize the opportunity and just go for it'', smiles Krzysiek.
A student-friendly city
After three months at Sheffield Hallam University in England, Krzysiek shared his impressions about the city, the university and England overall. Krzysiek was especially excited about being a part of a huge campus with over 30.000 students, fantastic facilities, and an on-campus doctor.  For Krzysiek, Sheffield was a great student city where he had lots of fun.
''Sheffield really amazed me. It's one of the most student-friendly cities I have ever been to. As a student there, you have lots of discounts and freebies. I was pleasantly surprised'', says Krzysiek.
Lifetime friendships
The Erasmus+ program is a great opportunity for students to develop social skills, to network and meet new people from all over the world. In addition, students can gain important language and inter-personal skills and to experience diversity in the classroom.
"Spending a semester abroad, I feel that my confidence increased significantly, I feel more independent and my English language skills have improved. However, the new friendships I made here are the most valuable things. I would definitely recommend going abroad with Erasmus+, because it is a fantastic opportunity from all points of view. If you have this opportunity, grab it. You will not regret it", explains Krzysiek.
Erasmus+
Like most students who are doing a study-abroad semester in another European country, Krzysiek has applied and been granted support from the European program Erasmus+. Read more about International Opportunities and Exchange as a student at Dania Academy HERE.